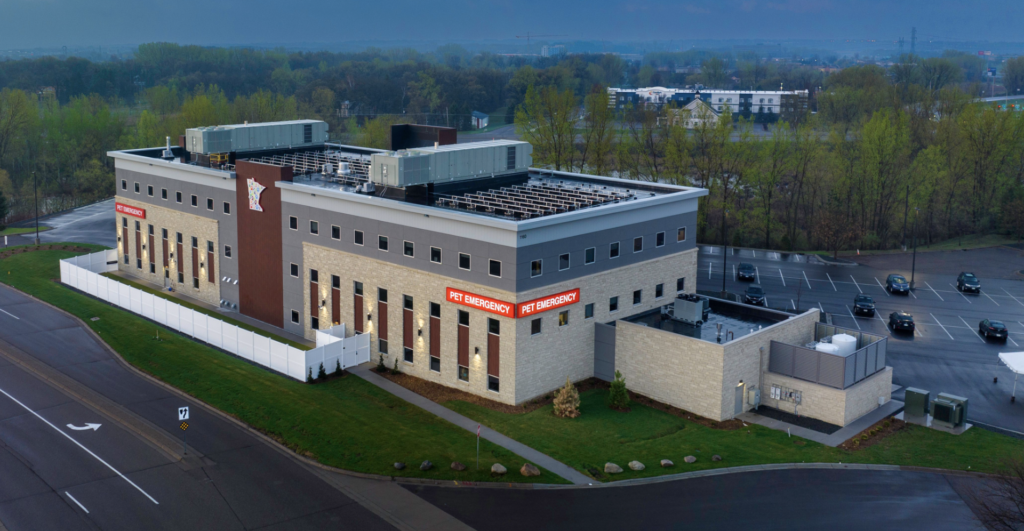 The KOMA team worked with Animal Emergency & Referral Center of Minnesota (AERC) to design the largest privately-owned specialty center in the Midwest.
---
Expanding in stages
KOMA has a long-standing relationship with AERC and has helped them expand their practice multiple times to support their rapid growth.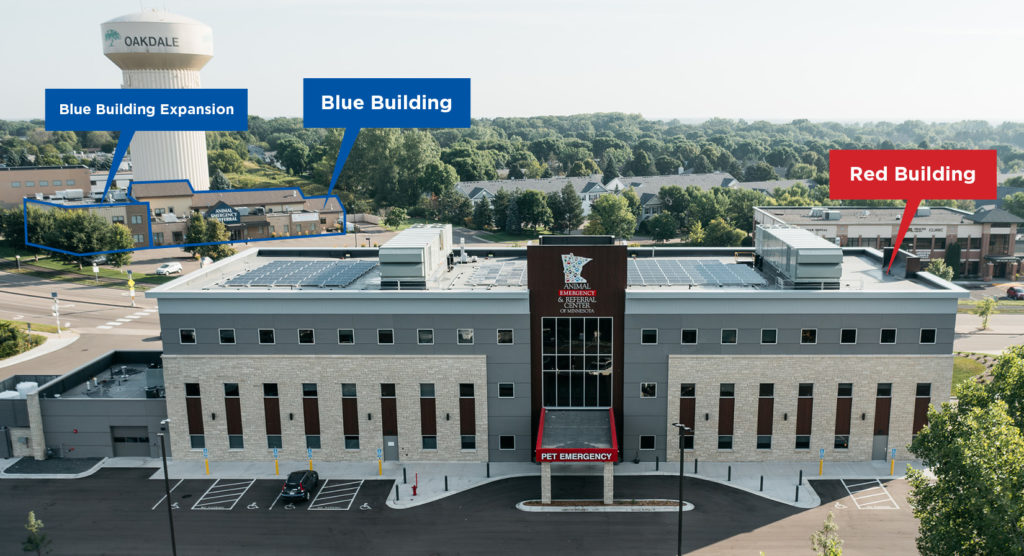 2010 – The Blue Building
The original clinic resided in a relatively small strip-mall space and included only one type of specialty service. Demand for veterinary care grew and the space was eventually outgrown. As a result, a new 11,000 square foot facility was built, now referred to as the "Blue Building."
2017 – The Blue Building Expansion
KOMA worked with AERC to design a 2-story expansion to the original building, resulting in 25,550 square feet and accommodating 10 specialty departments. Even with the larger facility, the AERC clientele continued to request more and more services and space quickly became an issue again. It became apparent AERC would need to build a brand new specialty center.
2020-2023 – The Red Building
In 2019, AERC began planning for a second Oakdale facility to support their business growth. After evaluating several nearby locations, they chose one right across the street, allowing for the convenience of having both facilities within walking distance. The design of AERC's newest building includes 46,500 square feet dedicated to emergency veterinary care and a wide range of specialty medical services. To clearly differentiate the new facility from the existing blue clinic (urgent care), KOMA utilized red signage and color tones on the exterior to signify that this location functions as an emergency hospital.
Designing for a variety of specialty services
Design for the new AERC emergency and specialty center needed to address the flow and function of eleven specialty care departments. Each department needed to operate as its own self-contained unit, but also integrate with one another as needed.
The AERC Hospital design included: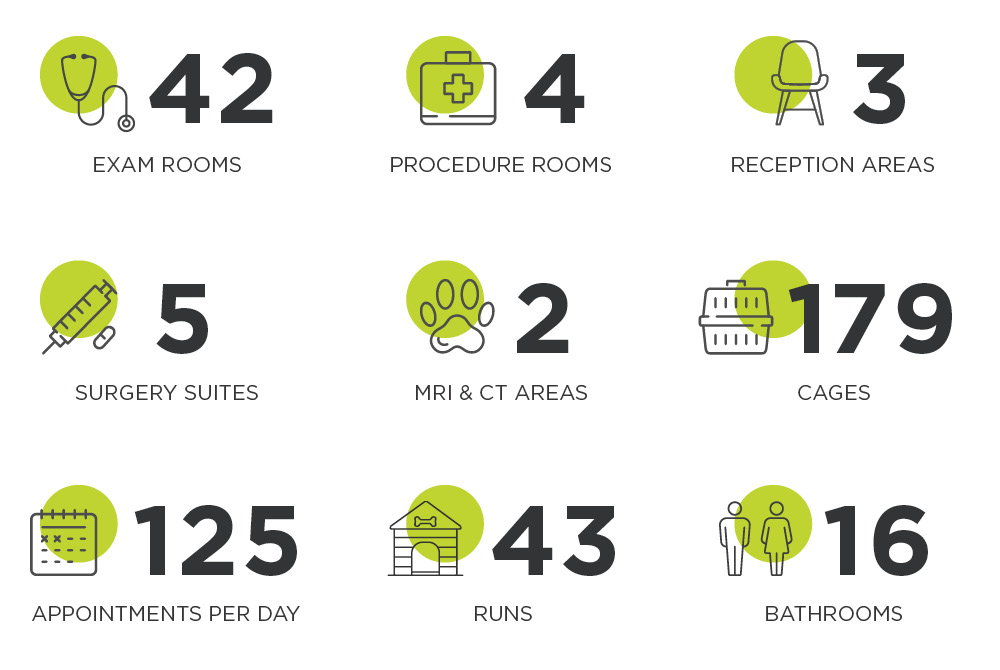 The integrative building layout required:
A well-designed flow that could accommodate staff, pets, and their owners
Strategic planning to put services that often collaborate near one another
Physical space for unique diagnostic tools and therapeutic procedures, including advanced imaging
---
A focus on comfortable care
Having a sick or injured pet is stressful. Throughout the project, the AERC and KOMA team made thoughtful architectural and design choices to create a welcoming and comfortable environment for animals and humans alike.
Using AERC's "trauma informed care" values, the design team paid special attention to:
Creating a clean, professional clinic aesthetic
Using calming colors, warm wood tones, and subtle large format floor tile for visual flow and to reduce distraction
Acoustical treatments and spatial separation for sound comfort
Comfort rooms for clients who may be dealing with the loss of a pet
Staff wellness rooms and in-house mental health support
The AERC staff members are able to deliver emergency services in a fast-paced environment, but also find areas of solace where they can recharge. Pet owners appreciate the quiet comfort rooms and spacious waiting areas. Blending health care and support results in optimal outcomes.
Leading the way in veterinary care
After more than 10 years of partnership, AERC and KOMA have succeeded in developing an advanced medical facility that is at the forefront of veterinary emergency and specialty medicine.
Other KOMA Veterinary Clinic Projects: