October 2019 – St. Louis Park, Minn. – Over the past few years, the City of St. Louis Park has modernized their City Hall, transforming the three story space and the landscaping that surrounds it. The Chamber Council area was the most recent piece and along with the designers at KOMA, they brought the space up to date and creating a room that not only functioned well for the Council and City staff but was also warm and welcoming to the community.

KOMA's interior designers worked with the City of St. Louis Park to redesign the first floor of the city hall (read more about that project here) and once complete, the city took the standard that was developed and applied it to all three floors of the building, creating a cohesive and updated facility top to bottom. The Council Chamber, which holds public forums, Council meetings and training sessions was the last major piece of the renovation. The goal was for this space to be functional and modern with current technology while remaining warm and inviting for members of the community who will utilize the space.

Reconfiguration of the room's layout was a large part of the program. "Initially the room entrance, which had no visibility into the space, was set up behind the council which made for an uncomfortable entrance if a meeting was already in progress," says interior designer Leanne Freed, "we wanted to provide an environment that was open and welcoming." The room orientation was rotated 90 degrees so the entrance occurs in the back of the space with a glass wall and double door allowing visibility into the room prior to entering. "We added electronically switched glass which allows the windows to be clear if a public meeting is occurring or frosted if a staff training is being held." says Freed.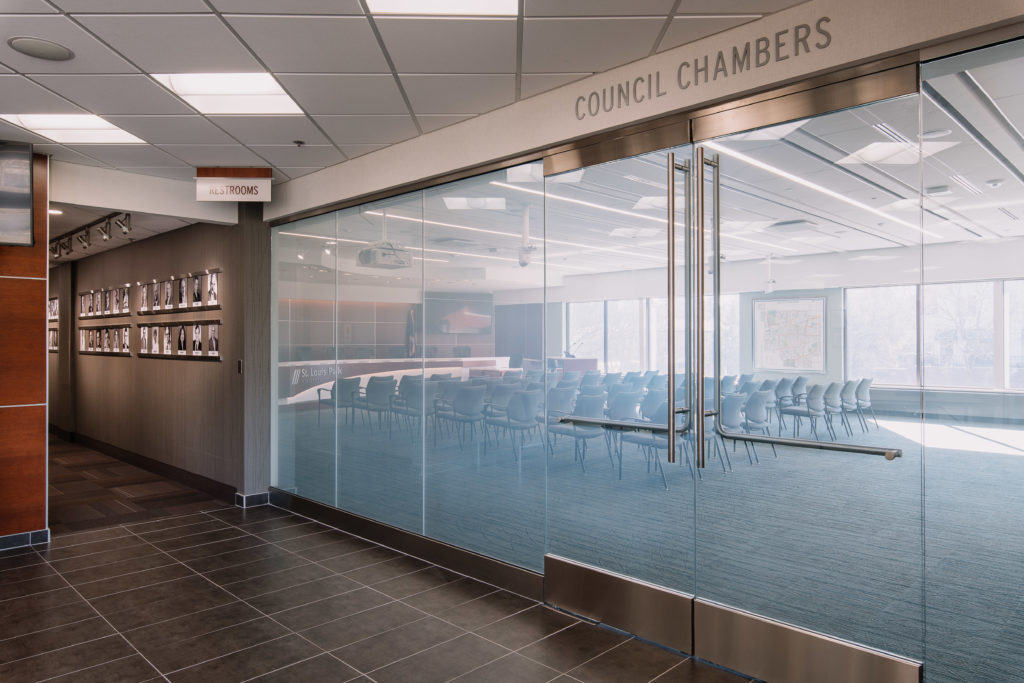 The millwork has moveable components which allow the room to be rearranged for different types of meetings. The podium is mobile and holds a large screen and two additional screens are located on the adjacent walls so all parties can view presented materials. Strategically placed lighting was designed to illuminate the faces of the Council Members.

"Creating a space that functioned well and looked aesthetically pleasing in person and on television was a large factor in the design," says interior designer Cindy Nagel, "we worked to create a clean space that showcased the city's logo and had optimal lighting and acoustics." Acoustical perforated wood panels were added to the walls and white floating, linear acoustical ceiling tile sections were added to the ceiling to not only add warmth and brighten the space but assist with sound attenuation.

To further brighten the space and bring in maximum natural light, the existing openings in the exterior wall were enlarged, creating two large windows which became the highlight of the space. Not only did this provide natural light and a view of the gardens below but it also provided additional aesthetics to the exterior. "We're really proud of how this project turned out," says Freed, "and I think it is a space that the city can be proud of for many years to come."