May 2014 – St. Louis Park, MN – The St. Louis Park City Hall recently completed a substantial renovation to the first floor of their 50 year-old building with the help of Krech, O'Brien, Mueller and Associates. With an emphasis on sustainability, the multi-faceted project included a new stone entrance canopy, an open lobby and reception area, stairwell improvements, private meeting spaces, public restrooms, a staff break room, and work space.
The building has housed a number of different departments over the years, one of which included the fire administration officials. With their recent move to another location, the city decided to take the opportunity to reconfigure the space. The updated space fuses aesthetics and function creating an aesthetic that is both visually appealing and easily accommodates the needs of both the staff and public. The high-traffic area now has designated work stations and break areas for staff as well as technology-driven public and private meeting spaces that allow the public to utilize the building.  "Any one of these improvements, taken by itself, would have made a significant positive impact on the first floor," said Cindy Nagel. "Together, the entire space is transformed."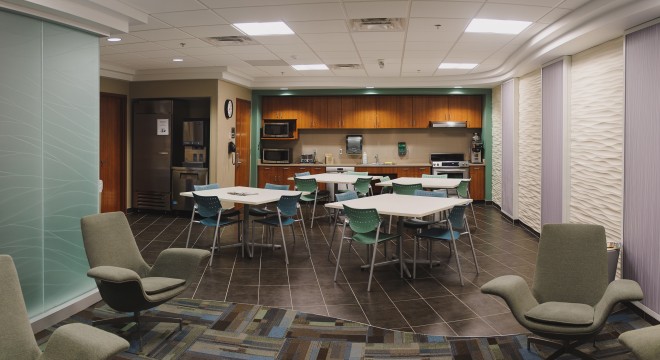 For more information on the renovation, click here.