June, 2008 – St. Paul, Minnesota – Krech, O'Brien, Mueller & Associates, Inc., today announced that recent client Grand Avenue Veterinary Center was named Best Veterinarian by Saint Paul Illustrated in their May/June publication.
"This award would not have been possible were in not for our successful integration into the Grand Avenue neighborhood," said Dr. Ann Brownlee, director of the center. "Our ability to offer walk-in services to an inner city setting is almost without duplicate, and we couldn't have created this welcoming, accessible, attractive space without the vision and expertise of the team at Krech, O'Brien, Mueller & Associates."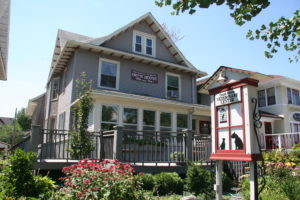 In 2005, Krech, O'Brien, Mueller & Associates was approached by Dr. Brownlee with the concept of expanding an existing two-story veterinary practice within a formidable Grand Avenue house. Situated within an extremely walkable neighborhood, it was important that the facility be easily accessible to the surrounding pet-owning patrons and exude the comfort of home. Dan O'Brien, principal and vice-president of Krech, O'Brien, Mueller & Associates, and Laura Bauer, interior design specialist, worked with Dr. Brownlee to develop an efficient two-phase plan that incorporated staying true to the exterior presence of the building, while renovating the existing floor plan.
The first phase redefined the ground level into a much more efficient space for the veterinary facility. Upon entering, you are guided into a spacious reception and waiting room, complete with a Victorian sitting area. Bedrooms and hallways were designed away to provide for numerous examination rooms, and a new lab and pharmacy space for quick access to medications.
Following the first phase, the second phase largely involved an impressive addition to the backside of the building. O'Brien and Bauer again worked with Dr. Brownlee to design a loft space with provisions for offices that overlooked the facility. The addition also offered new exam rooms, in conjunction with providing an area for the Center's new state-of-the-art surgery and dental services.
"We're honored and pleased by this award," said Dr. Brownlee. "And we know we would be where we are today without the fine work of the team at Krech, O'Brien, Mueller & Associates. Their energy, creativity and innovative thinking – and especially their willingness to listen to our thoughts and ideas – truly produced an amazing space to allow us to do our work."