June 2015, Inver Grove Heights, Minn. – The structural engineers at Krech, O'Brien, Mueller & Associates, Inc. (KOMA) have spent the last 30 years providing services for agricultural expansions including greenhouses, barns, plant food buildings, chemical warehouses, and containment facilities. In that time agriculture has seen a lot of innovation and advancement paving the way for new design approaches and new challenges. From old to new, small to complex, KOMA remains rooted in the world's largest industry.
When the founding partners started KOMA in 1985, they had a significant focus in the agriculture industry. All three individuals came from Cenex (now CHS) and not only had an expansive amount of experience in this area but also a great passion for it. "You're serving a community of hard-working farmers in the heart of the Midwest," says principal structural engineer Jim Krech, "there is a great sense of pride in that, especially having grown up on a farm myself." 30 years later KOMA is still extensively involved in the industry and has seen firsthand the changes that time has brought.
With new changes come new challenges. Greenhouse production has not seen a significant shift in function or form but developments like the SPRUCE Project which explore climate control and change require a new approach to the structure. Traditional concrete footings could not be used because the greenhouses sit on the top layer of a bog that provided no lateral support (to read more about the spruce bog, click here).  "It is really interesting to see new projects as the industry grows," says Matt Van Hoof, principal structural engineer, "and to take on the challenges that come with it."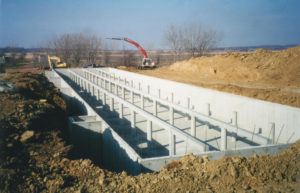 Many buildings for plant food have progressed in size over the years. There are still small scale farms throughout the Midwest but as machines do more field work and co-ops become larger, many buildings have become grander in size to accommodate more equipment and product. A small fertilizer building may be 30ft x 40ft holding 300 tons and have exterior concrete dikes that contain several 30,000 gallon tanks for liquid fertilizer and one load-out pad for dry fertilizer. One forklift is enough to move around chemicals for purpose of storage and sales. The larger plants are 200ft x 240ft holding 21,000 tons, with huge payloaders and 100ft high structural steel load out bins. They operate on a much larger scale providing to not only a higher quantity of farms but also larger ones.
"Large and small, its great working on fertilizer buildings, barns, greenhouses and things of that nature. They have their own unique challenges and you get to work with down to earth, salt of the earth people," says E.I.T. Dan Jaeger. "They are some of the few projects that are pure engineering, where function, strength, endurance and efficiency are of utmost importance – which we engineers love!"