March 2016, St. Paul, Minn. — Krech, O'Brien, Mueller & Associates, Inc. (KOMA) worked with Rahr Corporation to design their 20,000-square-foot pilot brewery and technical center which will be fully operational beginning early spring.
Rahr retained KOMA and MEP consultant Emanuelson-Podas to design the facility and to work with contractor, Greystone Construction to see the project through completion. KOMA also provided design elements and themes that will be incorporated in Rahr's new malt house and warehouse facilities.
"We chose to work with KOMA and their design team because of their depth of experience working with industrial spaces," says Jesse Theis, chief operating officer at Rahr. "Their team has designed this facility to accommodate our equipment and complex climate control needs that are required to ensure product quality."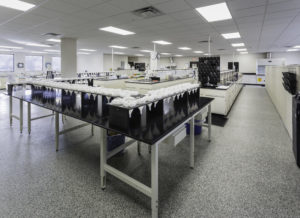 One of Minnesota's longest-standing family businesses, Rahr manufactures malt and distributes ingredients for the brewing and beverage industry worldwide. The addition of a new 115,000-square-foot malt house will add 70,000 metric tons of annual malting capacity, for a total of 460,000 metric tons. This amount is enough to brew 6 billion bottles of the average craft beer or 12 billion 12-ounce cans of the average light beer. With the completion of the malt house addition, the company's headquarters in Shakopee is the largest single-site malting facility in the world.
The 20,000-square-foot pilot brewery and technical center will further Rahr's position as an industry leader in brewing ingredients and improve the company's understanding of how its products perform in a realistic brewery environment. The first floor houses a pilot brewing and micro-malting center, and the second floor houses an expanded malt quality control lab.
"We were excited to be a partner on this project, "says Brady Mueller, principal architect at KOMA. "Malting and brewing is an industry that we really enjoy working in. Projects like this one require architects, engineers and designers to collaborate and focus on the function of the space, and its capacity to allow production to be accurate and efficient– this is where we feel we provide the most value to our customers."