June 2013 – Inver Grove Heights, Minn. – With the sun finally shining and gardening season having arrived at long last, Inver Grove Heights-based Gertens Greenhouses & Garden Center is busy and bustling. The highly regarded garden center known for its trademark red roof and awning is a longtime client and just-down-the-street neighbor of Krech, O'Brien, Mueller & Associates.
KOMA has assisted Gertens — renowned throughout Minnesota for its "buy it from the grower" philosophy — with several expansions over the years and provided a broad range of design and engineering services.
Over the course of the many-year relationship, KOMA has worked with Gertens to guide the company through a process that has included analyzing city codes and regulations; resolving zoning and occupancy issues; creating a colorful light-filled design for a new 30,000-square-foot retail greenhouse and nursery; delivering a master plan for future expansion; and providing guidance and expertise for a variety of special projects.
Perhaps most noticeable to the public is KOMA's work on Gertens' glass and metal retail hub, which features the business' highly recognizable red roof and awnings to connect old and new, and red trusses and clerestory windows to accent the indoor space.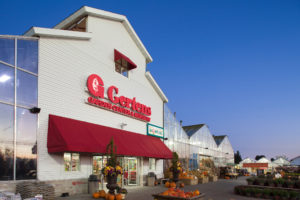 KOMA architect Jon LeNoble, AIA, said, "It has always been a pleasure to work with the team at Gertens. We like to view each of our clients as partners, and Gertens has been a prime example of how that approach to relationships can yield really impressive, inspiring results."
KOMA principal engineer Jim Krech, PE, added, "The people at Gertens are just fantastic. We've worked with them for a long time, and one of the reasons the relationship has been so successful is that there is a high degree of honesty and trust. They know they can trust us to provide prudent design and experienced counsel, and we know that they'll give us candid feedback and strategic thinking."
For more about KOMA's work with Gertens, click here.