April 2016, Bloomington, Minn. – Spring is in full swing and so are the new attractions at Mall of America. With the help of the design team at Krech, O'Brien, Mueller & Associates (KOMA), Parkview Meeting + Event Center and FlyOver America – located within Nickelodeon Universe, are open to the public.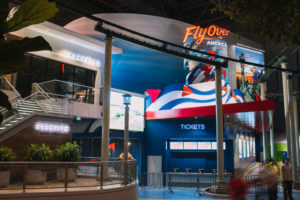 FlyOver America is a flight simulation ride that brings guests on an aerial tour of some of the greatest landmarks and regions throughout the United States using virtual flight technology.  During the ride, guests strap in to seats and are suspended in the air with feet dangling up to 35 feet above the ground in specialized ride vehicles before a giant half-spherical dome screen. KOMA worked with FlyOver's team along with technicians, manufacturers and consultants to coordinate the pre-designed three-level ride and screen structure within a newly designed building enclosure in the park. The building is comprised of pre-show exhibits, a 45 foot high theater space, retail areas, box office and administrative spaces, and a renovated park plaza.
"This project presented special challenges that required the team to be both highly creative and detail oriented," explains Steve Iaria, principal architect. "Our design team needed to ensure that the ride would function properly and give guests a visually and physically thrilling experience." Located adjacent to one another, soundproofing for FlyOver and Parkview was a crucial element of creating the best experience for guests. KOMA's design team worked with acoustical engineers to ensure that rider experiences would be truly immersive and not interrupted by the sounds of the park.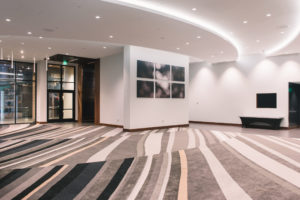 The Parkview Meeting + Event Center features 4,000 square feet of private event space along with a 700 square foot balcony that overlooks Nickelodeon Universe. KOMA's design incorporates perimeter programmable LED lighting and SageGlass LightZoneTM glass in order to give the space a luminescent glow. Customers renting the space will be able to control the opacity of the windows overlooking the park.  The space also features a scalloped ceiling, custom carpeting, custom large scale digital wallcoverings, floor to ceiling upholstered banquettes and rich walnut accents. It is equipped with full A/V capabilities, soundproofing and private restrooms and can accommodate up to 400 guests. "The mall was looking to add a modern and upscale event facility," explains Cindy Nagel, Interior Designer at KOMA. "We knew that in order to compete with the area's newest event venues, this space would need to have a real wow-factor."
Source: KOMA News