January 2015 – Minneapolis, Minn.  – For the company's new office space in the North Loop neighborhood of Minneapolis, marketing communications firm Neuger Communications Group again chose to work with Krech, O'Brien Mueller & Associates (KOMA). The goal was to design a fresh space that strongly reflected the company's visual brand, reinforced the look of their corporate headquarters and also remained true to the creative North Loop culture.
Headquartered in Northfield, Minn. – a college town about 40 minutes south of the Twin Cities – Neuger Communications Group wanted to expand their presence in the Minneapolis metro area to better serve current clients and gaingreater visibility to promote new business development. While considering an expansion to the Twin Cities, the company acquired the Minneapolis PR firm Henry Schafer Partners in February of 2014. This acquisition helped expedite the process as the new Minneapolis staff was in need of office space.  After scouting numerous possibilities, Neuger Communications chose an office space in the Tractor Works building in the vibrant North Loop of Minneapolis. The building is an ideal mix of rich history (it was originally a John Deere factory) and classic aesthetic with high ceilings and exposed heavy timber construction.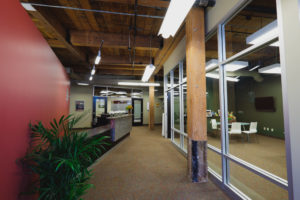 When it came to designing the space, the goal was to marry the progressive elements of the building with the more traditionally corporate culture of the company. The colors, floorcovering and paint are identical to those used in the Northfield office but applied uniquely to accentuate the existing brick and wood elements. All new lighting was installed and a leased artwork program utilizing the work of local artists brings fresh painting and sculpture to the space every six months. A new entrance was created recouping formerly unutilized common area square footage into the space.  The angled full glass wall creates a unique, eye-catching entrance that naturally draws people in.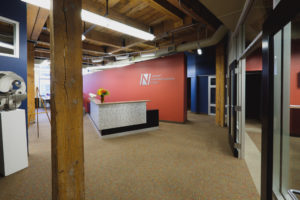 The space evokes a slightly different character than the Northfield location but they still work harmoniously to represent the company's brand. "Having created the original design," says interior designer Cindy Nagel. "It was great to be able to determine the key elements to reproduce while allowing the design to go through a process of evolution and to mold itself into a configuration that was uniquely right for this specific space.