February 2013 – Houston, Texas – Every year since 1996 basketball fans have flocked to the city of the NBA All-Star Game for the NBA All-Star Jam Session. Created, designed and built by Minneapolis-based VEE Corporation, the event is a series of activities created especially for NBA fans. When VEE recently fashioned an additional sculpture for the event, they called on the engineers at Krech, O'Brien, Mueller and Associates, Inc. to certify that it was structurally sound.
Standing 30 feet tall, the sculpture is an aluminum sphere 20 feet in diameter that rests on a 10-foot circular base made of steel. The sphere's design is a fusion of globe and basketball representing the world-traveling NBA. It was initially assembled in Minnesota for design and structural purposes, then disassembled and shipped to Houston. Once arriving in Houston it will be reassembled in the convention center for the upcoming NBA Jam Session. It was intentionally designed to assemble and disassemble not only for shipping purposes, but also to allow the sculpture to potentially be displayed in different cities around the country. This need for repositioning created an additional layer of complexity for our engineers to consider when working to ensure the sculpture would be stable and properly supported.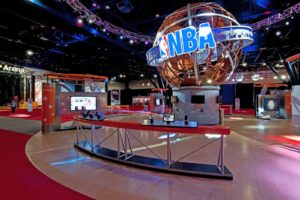 To assist in examining the structure, structural engineer Matt VanHoof created a 3D model of the globe. "We typically work on one plane, and so it was fun to put this into a 3D program, Versa Frame, and figure out how it was going to work." VanHoof continued, "It is always interesting to have new and unique projects such as this come our way".