October, 2009 – Bloomington, MN – In the fall of 2006, Krech, O'Brien, Mueller & Associates received a peculiar phone call. The caller wanted to know what they knew about building structures out of gingerbread. Big structures. Really big.
Thus began KOMA's involvement with what was to become the Guinness World Record-breaking gingerbread house at Mall of America. Partnering with PCL Construction Services, KOMA provided structural engineering services for the ambitious 67-foot tall gingerbread creation. When completed, the structure surpassed the previous world record of 57 feet. Both structures were designed by recognized artist Roger Pelcher.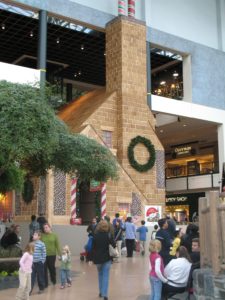 KOMA structural engineer and principal Jim Krech, PE, said, "Working on a project like the gingerbread house was a great deal of fun, but it was also stressful. It all came together very, very quickly… just over a week. And the number of non-traditional variables were… well, let's just say that dealing with more than 14,000 pounds of gingerbread was interesting."
The structure was built in several stages. First, scaffolding and sheetrock were built up while waiting for the gingerbread to arrive. Once on-site, it was applied to the sheetrock using real frosting. The exterior of the house was completely edible. By Guinness World Record requirements, 95% of the outside must be edible.
Krech continued, "We had to work closely with the baker – who was located in Illinois – to get a handle on the weight and characteristics of the materials, and then make sure that the floor could carry the entire capacity of not only the structure itself, but also of the hundreds of people who would be walking through it at any given moment. We also needed to make sure that accessibility, safety and other code requirements were met. When all was said and done, the house had its own sprinkler system!"
It took 1,700 hours and nine days to create the 1,496-square-foot magical wonder. When it was finished, the house consisted of 14,250 pounds of gingerbread, 4,750 pounds of icing and more than one ton of candy embellishments.
Other candies included were 1,800 Hershey's chocolate bars, 1,200 feet of Twizzlers, 100 pounds of large-sized Tootsie Rolls, 300 pounds of large-sized Dots, and 100 pounds each of Brach's Star Brites Mix, Holiday Mix, Crimp Ribbon, Christmas Spicettes and Christmas Nougats.