September, 2009 – Cottage Grove, MN – Park High School recently completed major construction on a project that featured significant improvement to the school's air quality, a major update to the building's mechanical equipment and a significant upgrade to many of the day-to-day learning areas.
Krech, O'Brien, Mueller & Associates, Inc., provided structural engineering, architectural and interior design services for the project, and worked closely throughout the design process with mechanical engineering firm and longtime partner Martin Pevzner Engineering.
As with KOMA's work with the Woodbury Schools, the driving forces behind the improvements at Park High was the desire to enhance air quality throughout the school and to significantly improve upon the performance and durability of the mechanical and air-handling equipment.
Brady Mueller, KOMA architect and principal in charge of the Park High School project, said, "Updating the mechanicals of Park High gave us the opportunity to significantly improve upon the school's use of energy and resources. Additionally, making these improvements opened the door for other enhancements, and allowed us to really give some areas an overhaul. Our goal for this – and for all our projects, really – is to both create spaces that are highly functional and efficient, yet still remain aesthetically pleasing and 'human friendly.'"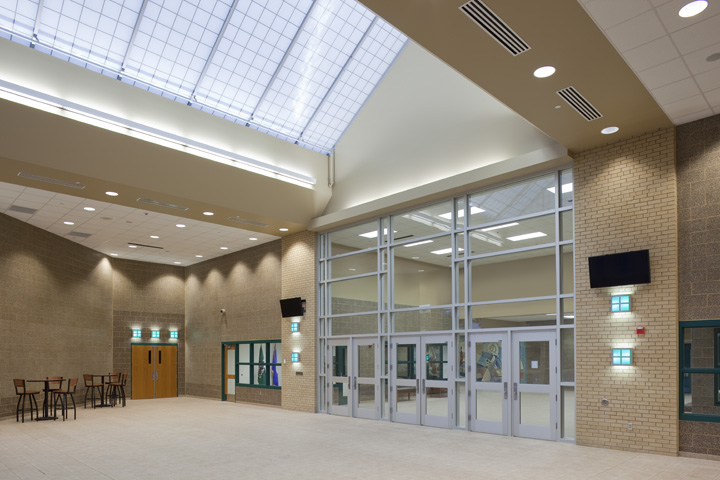 In addition to the work in the mechanical rooms, the project featured an addition to the wrestling room, a major update to the science classrooms, an update to the lecture hall and a major overhaul to the building's entrance.
Mueller commented, "One of the things we did that most likely won't catch the eyes of many visitors is to update all the windows in the school. When we first started working with Park High, the building still had most of its original windows in place… windows from the mid- 1960's. We updated all these with state-of-the-art windows that – in many cases – provide the energy efficiency of a triple-pane unit. The energy cost savings the school will see will be tremendous."