July 2014 – Hudson, WI – St. Croix Animal Friends (SCAF) recently embarked on a capital campaign to secure funds for their first-ever facility. With the help of Krech, O'Brien, Mueller & Associates (KOMA), a master plan was created to visually inform the community of the vast services available at the new site.
St. Croix Animal Friends is an organization that promotes and assists with pet ownership, care and education. The business began as a group of concerned neighbors and has since grown, gaining a board of directors and becoming an official non-profit 501(c )(3) organization with foster programs, spay/neuter programs, pet adoption and emergency medical assistance.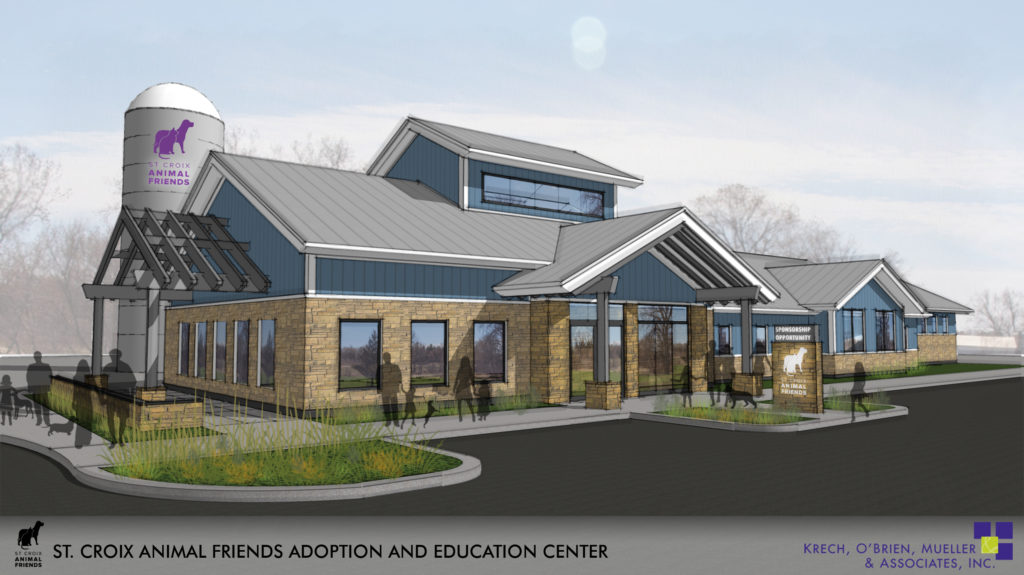 Seeing a need for a facility to help expand these services, the organization recently purchased 6.5 acres of land in the Town of Warren, Wisconsin. KOMA teamed up with Loucks Associates to provide conceptual design services for SCAF's fundraising efforts. This included renderings of the shelter, a master plan, floor plan and space program. The no-kill shelter will house administration offices, exam areas, housing for up to 45 dogs and 75 cats, and adoption rooms. Some of the other site amenities include an outdoor amphitheater, park pavilion, trails for walking dogs, outdoor play areas and a memorial garden with a bridge.
SCAF 's goal in building a facility is not only to house pets for adoption, but also to create a place where the community can come and spend time with their pets and educate themselves on animal care. The organization aims to provide a welcoming place to bring people together and build relationships based on a love for animals and a desire to provide the best life they can for their pet. In addition, the facility would provide a place for fundraising to take place. Some of the fundraising efforts include offering naming rights for different building amenities such as the memorial bridge or the outdoor amphitheater. KOMA architect Steve Iaria said, "There is a lot of opportunity to expand animal adoption and pet care education. This has been a really passionate group to work with; I am excited to see their vision come to life".