May 2012 – Edina, Minn. – The first-ever KOHLER Signature Store, a kitchen and bath showroom that delivers a signature Kohler experience to designers and homeowners, recently celebrated its grand opening at its new location in Edina, Minn. The 3,000-square-foot store's arrival was made possible in part by the architects at Krech, O'Brien, Mueller & Associates, and it extends Kohler's long history of using trusted distributors to showcase their products.
Solely owned and operated by plumbing distributor First Supply, the showroom allows visitors to take advantage of expert consultation services and step into fully designed suites featuring products exclusively from the Kohler brands. Working closely with Kohler and First Supply, KOMA architects were charged with taking an initial building concept and then executing it in the existing retail space that was chosen for the new store.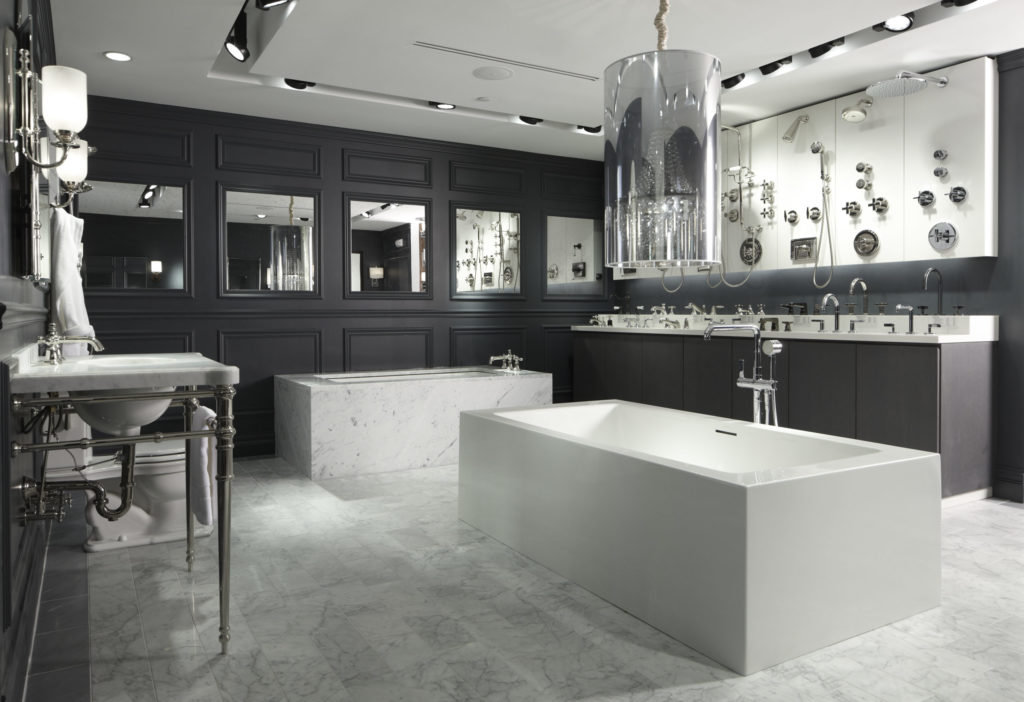 "The basic preliminary concept was developed by Kohler and London-based architect Harvey Langston-Jones," said Steve Iaria, AIA, KOMA principal architect. "We worked to understand the intent and aesthetic of that initial concept, and then developed a design that carried that concept out in the actual space."
He continued, "Any time you're working with an existing space, it can be challenging to consistently apply a design. This instance was no different. But each challenge also presents an opportunity, and I'm thrilled with how we were able to maintain – and even enhance – the aesthetic our client was trying to achieve."
Also key to the success of the project was contractor JL Sullivan and the teams from both Kohler and First Supply. "As with many of our projects, this was a truly collaborative effort," said Iaria. "We brought ideas, expertise and experience to the project, but without the focused efforts of our outstanding partners, this space wouldn't shine in the way it does."
An aggressive timeline and numerous specialized building subcontractors made it essential to have highly detailed, in-depth plans in place and required a high level of coordination. KOMA delivered documents that kept the project moving forward and enabled JL Sullivan and the numerous
subcontractors to work side-by-side with minimal complications or hold-ups. "There were a lot of moving parts to this project," said Iaria, "and I'm really pleased with how we were able to help keep everything moving forward efficiently while still being consistent with our application of the design."
Following the opening of the store in Edina, Kohler plans to expand the retail store platform with distributors to the top 20 U.S. consumer markets. The next two are slated to open this fall in Boston and Washington, D.C.