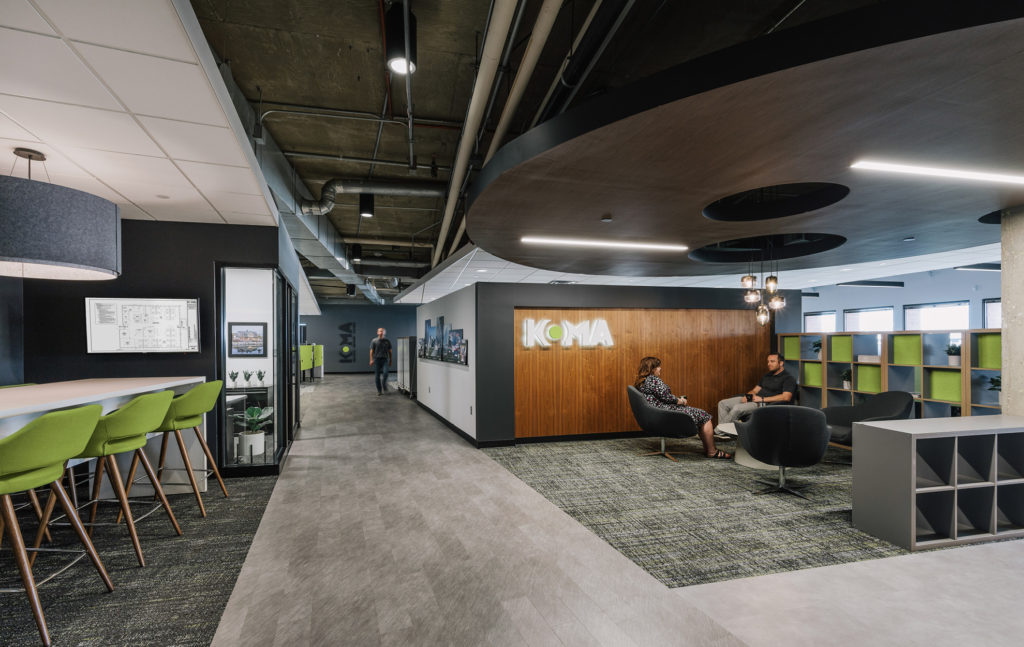 In 2020, a changing workforce and a startling pandemic abruptly transformed the world of commercial office design. At the same time, KOMA had outgrown our old office building and the design of an entirely new space was well underway.
A project with a blank slate can be exciting and challenging. We relied on our trusted process:
Gathered input from all staff members
Sketched, rendered, and revised many different options
Analyzed trends for flexible work environments
Made adjustments as needed along the way
Throughout the process, we discovered innovative ways to meet the needs of the current business climate and challenge well-worn norms. The journey strengthened our own expertise and has allowed us to better support our client base as they plan for the future.
Key Priorities of the KOMA Office Design:
Wellness
Prioritizing employee health and wellness was an emerging trend before the pandemic, and now is more important than ever.
When working on a new project, we try to focus on the occupants more than the building. How will people use the space? Can our office environment promote healthy behaviors? Will staff find opportunities to connect, recharge, and be productive?
A few wellness trends we've incorporated at KOMA:
A spacious break room with plenty of room to prepare healthy food and socialize. We added a large center island that is often a gathering space for staff throughout the day!
Multiple ancillary workspaces where people can step away from their desk and find privacy or a change of scenery.
By maximizing the area along a large bank of windows, every workspace has access to natural light.
Height adjustable work surfaces give people the option to sit or stand while working.
A wellness room provides a quiet space for privacy or to recharge.
And of course, we had to find space for our beloved foosball table!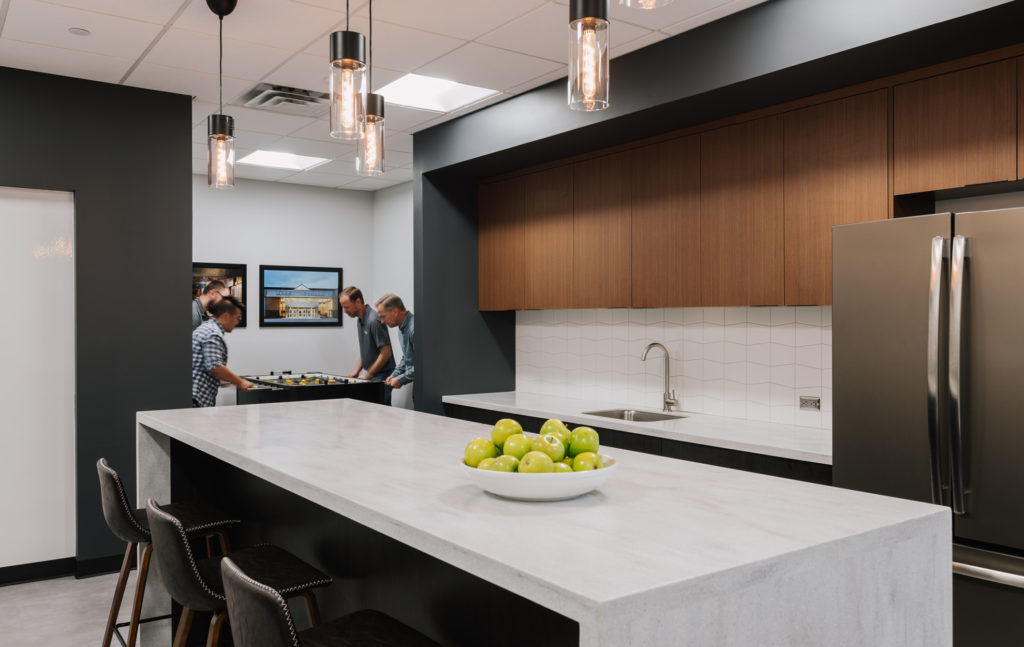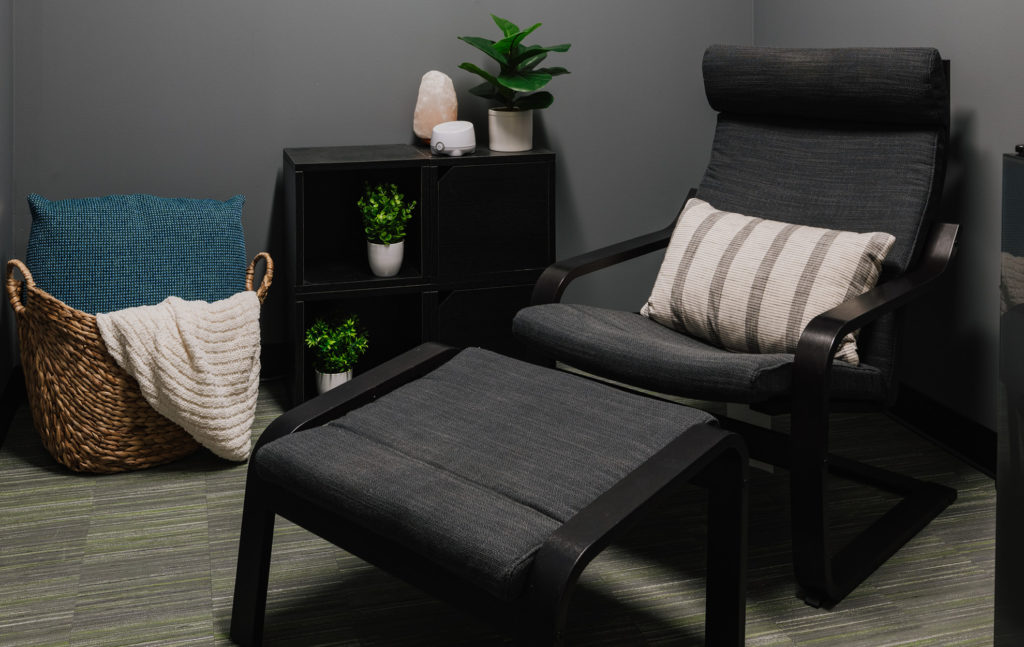 Other wellness trends we're incorporating into client projects:
Consider the stairwell. Stairs can be an opportunity for a little exercise and time away from a desk. Enclosed stairways are often required; however, we encourage the design of additional open and inviting stairs.
Include different chair styles at different work areas—lounge chairs, bar stools, desk height—for comfort and variety.
Whenever possible, design outdoor spaces for employee use.
Source products that are environmentally friendly and support long-term health.
---
Layout
Is the office layout flexible? Energizing? Inspiring? These components are critical when considering the floor plan for workplaces.
At the new KOMA office we:
Retired the traditional reception area in favor of a more versatile entrance. Many companies no longer have a dedicated receptionist and there is nothing worse for a visitor than being greeted by a big empty desk!
Integrated an open floor plan that includes workspaces for the leadership team. There are no siloed offices — we are a true team.
Designed common spaces with virtual meetings in mind (including branded backgrounds!).
Worked our brand elements into the design, including a large circular ceiling feature that is a nod to our logo.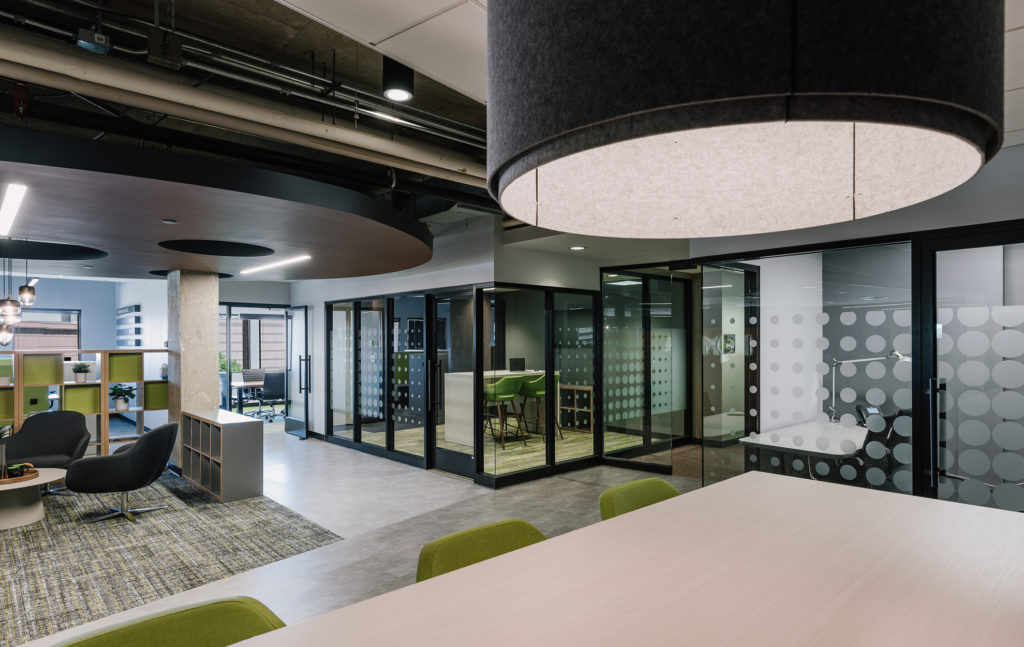 ---
Productivity
In addition to amenities, of course we have to make sure we're creating an environment for maximum productivity.
How we integrated production:
Mobile technology – Mobile carts allow different groups of people to utilize display screens during smaller breakout meetings.
The center of the office is a library filled with samples and design resources. Employees use this area as a place for research and innovation.
Staff members are encouraged to host meetings at our office. The space serves as a showroom and we intentionally incorporated a variety of products from multiple vendors to help our clients get inspired!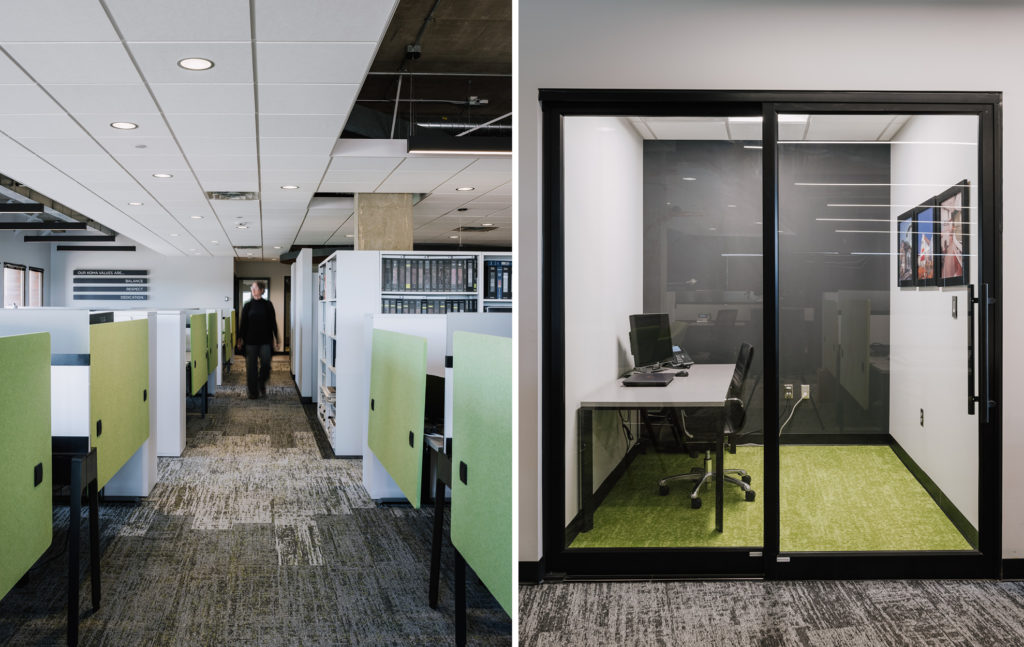 Thank you to the entire KOMA team who led us from ideation to completion of our fantastic new office!
---
Check out some other office interiors projects KOMA has worked on:
Contact us if you have questions about how to enhance your commercial office space.