March 2011 – South St. Paul, Minn. – Krech, O'Brien, Mueller & Associates' client Black Sheep Coffee Café recently received mention by Twin Cities Business as a local high-end boutique coffee and espresso bar that is part of the national "Third Wave" coffeehouse movement.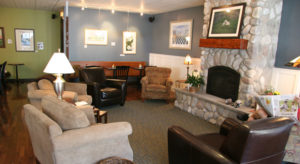 KOMA worked with Black Sheep co-owner and barista Peter Middlecamp to provide the architecture, structural engineering and interior design of the innovative new coffeehouse. Black Sheep needed to differentiate itself from dozens of other coffee cafés in the area, as well as have a local touch, so they solicited input from their customers about what the new space should be like. KOMA took that input and crafted a plan for a contemporary café where customers feel right at home while sipping a cup of perfectly brewed gourmet coffee.
Featuring coffees and teas from all over the world and roasting their own beans on site, Black Sheep Coffee Café is part of a new trend in coffee shops that focuses on quality beans, perfect roasting and brewed-to-order coffee. The trend has been dubbed the "Third Wave."
KOMA Interior Designer Cindy Nagel commented, "We're very pleased with how the café turned out, and it's a wonderful asset to the neighborhood. The input we received from community members was exceptionally valuable and allowed neighbors to feel a sense of involvement and ownership in the project. We're excited that Black Sheep and its treat-every-cup-individually approach has been noted by local media for its high quality products."
You can find out more about Black Sheep Coffee Café on their website, www.blacksheepcoffee.com. Or read the full Twin Cities Business article here.