Let me tell you about my friend, Don.
I've known Don for more than 20 years. He has three sons and has been married to his wife Colleen for 39 years. They live just outside Cannon Falls, Minnesota, on a beautiful patch of land where, today, they breed English Goldendoodles and board horses. (In fact, one of their earliest pups now resides at my house and goes by the name Izzie. On quiet days, she may visit us here in the KOMA office. Maybe some of you have met her? But back to Don…)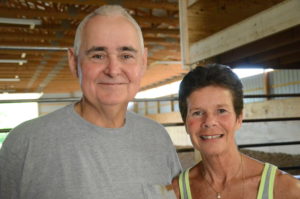 Don worked for one company his whole life — for 49 years. He's retired now, but his career is nothing short of amazing. He started when he was 16 and worked until age 64. It all started in the summer of 1962, when one of the Tapemark companies asked Don's father for some help on an urgent job. Don's dad sold printing plates to Tapemark, and he brought young Don along to help push out the project. The folks at Tapemark were impressed and told Don's father to send Don their way when he was ready for a job. Well, you know what happened next. Don went to Tapemark and got a job doing gopher and janitorial work. And he never left.
Now, Don will tell you that he was "kind of an operations guy." But he touched a lot of areas in his 49 years at Tapemark. From automotive pinstriping to diecutting for sensitive tapes to electronics for pharmaceutical and medical products… Don saw it all. "Hands-on learning," he'll tell you, "is the best kind of learning."
I first met Don in the early 1980s. I liked him immediately. He was — and is — a down-to-earth, humble individual with a quick smile and a ready laugh. I learned a lot from Don in the 20 years since I met him. He'll tell you he's learned a few things from me, too, although for the life of me I can't imagine what those things might be.
I saw Don a few weeks ago when I was down to his place in Cannon Falls to talk dogs and horses. It was then that I got the idea for this article. You see, during the 20 or so years I knew Don, he was a steady client of ours. We did warehouses and clean rooms and other projects for Don — and it was great, enjoyable work. But when I think of that time, what I remember more than anything else is how much I enjoyed working with and getting to know Don.
I really believe that this is one of the reasons we've been successful here at KOMA. Jim Krech and I — and our new generation of owners, as well — do our best work with people, rather than working on projects. And you know what? It's not hard to have this approach, because we get to meet and work with great people like Don. People that become friends and not just clients.
So I couldn't help but smile as I drove away from Don's ranch. How could you not smile after having the chance to reconnect with an old friend?
—
Oh, and if you're interested in Don's English Goldendoodles, take a look at hugabeargoldendoodles.com.