February 2011 – Minneapolis, Minn. – Candy! Toys! Color! Sugar Pop is a new concept store in the Minneapolis/St. Paul International Airport offering candy and toys organized by color and theme, and featuring popular branded merchandise.
Developed by St. Croix Promotions and Retail, KOMA became involved through an existing relationship with one of the project leads, Julie Swenson, who had previously worked with KOMA on projects at Mall of America. Initial concept sketches were created for a kiosk, but the location was eventually moved into a standard retail space formerly occupied by a golf store.
"Working at the airport was interesting," said Steve Iaria, project architect on the job. "The Minnesota Airport Commission is really invested in the success of its retailers and was very involved in the beginning of the process. And of course, getting through security when we wanted to visit the site was a process in itself."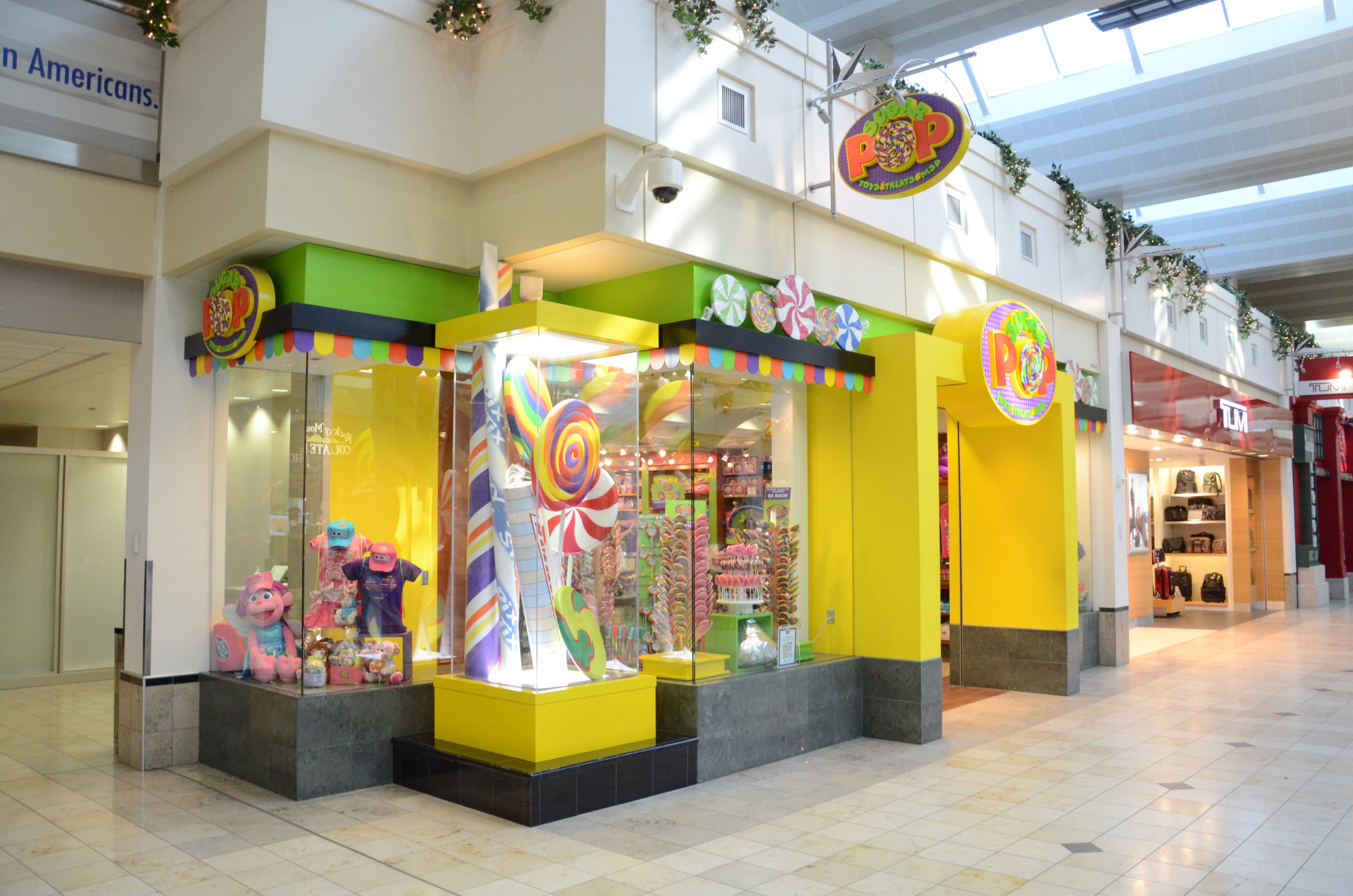 One of the major challenges was designing an all-new, themed look for the space, without making any major structural changes – both because of budget constraints and limitations defined by the airport. Because many of the existing fixtures needed to remain in place, it was determined that the new look would be achieved by re-cladding much of the interior, rather than by replacing major features. The addition of a dynamic sculpture outside the store and vibrant signage, as well as the colorful displays inside, all serve to attract customers.
Cindy Nagel, KOMA interior designer, said, "The project required our design team to come up with a variety of creative solutions. For example, how can we handle a bright green floor, if you can't cover it and there isn't budget to replace it?" Other team members, including Jonas Schaefer from REVE as well as Tony Peterson from MORCON Construction also lent expertise during the highly collaborative design process.
"It really was a fun project," said Iaria. "Who wouldn't love designing with lots of bright colors while thinking about candy and toys? But it was also great working with the folks at St. Croix, REVE and MORCON. The airport commission was receptive to our ideas, which made the entire process go quite smoothly. I think my favorite part is the giant lollipop sculpture out front."
Next time you're wandering through the airport, stop in and pick up a treat for yourself or someone you love – it will be hard to resist!