July 2016 – Lino Lakes, Minn. – School is out for summer but Lino Lakes Elementary is still taking on a new assignment. The school is in the design phase of a multiple year remodel to modernize multiple facets of the building. Krech, O'Brien, Mueller & Associates (KOMA) is partnering with Martin Pevzner, Kraus Anderson and Loucks Associates to bring an innovative new design to the district.
The STEM school – which focuses on science, technology, engineering and math – is located in the Forest Lake school district and is in need of important updates. New mechanical rooms will be added, classroom partitions removed and replaced with floor to ceiling walls for sound control and safety, the courtyard will be filled in to add more classrooms, a new entry will be put in place, and new landscaping will promote outdoor learning.
The design process began by listening to the leaders and staff of the school to determine their concerns, needs and preferences and subsequently presenting a preliminary schematic design to the district, with contributions of all involved trades, along with an associated cost estimate.  With initial approval KOMA moved forward with the design process, using an internal design charrette to compile ideation from multiple individuals. The ideas and sketches were compiled and the final design was a blend of concepts. "Charrettes are a great way to get fresh perspective from people less engrained in the project," says architectural designer Alisha Simones, "everyone brought awesome ideas and it was really cool to see themes and patterns in what was brought to the table."  Once this initial design was approved by the district the same process took place for the entry and commons area of the school, this included wall applications, signage and wayfinding.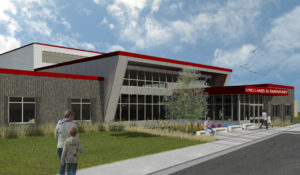 Highlighting STEM is a large component of the design.  It is an integral part of how the school functions and promotes itself and it was important to incorporate it into the aesthetics and utilization of the school. "It was a challenge to create a building that looked complete but still showed enough of the inner workings that students could learn how the building functioned," says principal architect Marc DuBois, "we want the students to be able to see, perhaps, a duct painted blue and learn that cool air is distributed through it in the summer, or see a structural beam and column connection and begin to understand more about physics  – we want it to be not just a space to hold class but a learning tool itself."  Other components were added to the interior of the space to build on this idea; including Sage glass which is computer programmed to tint as the sun hits it. Monitors that show what the building systems are doing and how much energy is currently being used within the space were also proposed as a part of the new design. Loucks worked to bring this idea to the outdoors as well, creating garden areas where children can learn outside the classroom. The trees, gardens and ponds are not only aesthetically an upgrade but they are also visual aids to the Science aspect of STEM.

"We want to create a space that not only is aesthetically upgraded but that functions better and improves daylighting, airflow and building energy" says Simones. "It has been such a fun project to work on because of all the unique dynamics of the school; it has really allowed us to think outside the box and research products that we wouldn't normally have the opportunity to use – I look forward to seeing it all come together. "