March 2015, Eagan Minn. – Founded in 1946, Gopher Resource is an environmental solutions provider located out of Eagan, MN. Over the years, the company has grown to become one of the largest and most influential lead-based battery recyclers in North America. The relationship between Gopher Resource and Krech, O'Brien, Mueller & Associates, Inc (KOMA) began back in 1988 when KOMA was hired by the recycling company to design a structural lintel over a door at their Eagan facility. Since then KOMA has worked with the company on numerous projects from structural columns to complete architectural, structural, and interior additions and remodeling.  Here is a look back at the past few decades:
1989 – RMPC (Raw Material Processing Center) – The first big addition to the recycled battery facility completed by Krech, O'Brien, Mueller & Associates.
1990 – Refining Stack – This structural project entailed designing the guy wires and their foundation anchorage to support  a new 200' high refining stack after the original stack had collapsed in a windstorm. In 2012, a small building was attached to the stack for workers climbing on cold and windy days.
1995 – Plastics Facility – A new precast concrete building was built for the processing of existing battery casings into extruded pellets which are used in the manufacture of new battery casings. A portion of this building was later leased to Dakota County and remodeled into the "Dakota County Eco Center", Dakota County's main residential recycling facility.
1997 – Hygiene Facility – This new state of the art facility was designed to accommodate the company's need to remove any lead contaminants from employees. The facility contained a cafeteria, conference rooms, training areas, showers, engineering offices, and areas to remove lead before entering the building.
2000 – Battery Storage Warehouse – A new 40,000 sq. ft. battery storage warehouse was constructed with containment provisions for any spilt acid. A subsequent 40,000 sq. ft. warehouse addition was completed four years later.
2002 – Hygiene Facility Corporate Addition – Corporate offices for the company were later added to the existing facility. New spaces included conference rooms, offices, skylights, trucker's check-in area, server areas, and breakrooms.
2006 – East Wall – An existing 600 ft. long masonry wall was failing and severely deteriorating. If it fell, it would land on the nearby railroad tracks. It was replaced with a structurally sound precast concrete wall. At the same time, large steel plated concrete bin walls were installed adjacent to the wall.
2012 – Truck Scalehouse –This project was major in its scope. With the assistance of civil engineers, the entire site was revised to allow better truck access and maneuvering into, around, and out of the site. Roads were moved and a new scale house constructed for more efficient processing of the large number of truckloads of recycled batteries.
2012 – Tampa, Florida Facility– In Gopher Resource's first recycling facility in Florida, the engineers of KOMA completed the design of a mezzanine in their RMPC area. In 2014, KOMA also started design work on a future 80,000 sf battery storage warehouse which will be added to their existing recycling facility.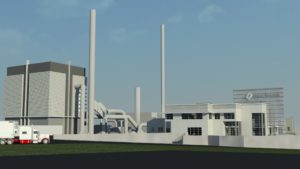 Current – Dry Scrubber – KOMA's architects and engineers are currently working on the design of a large dry air scrubber for Gopher Resource. This scrubber is needed to maintain the high quality air standards demanded by Gopher Resource and the Environmental Pollution Control Agencies. Standing more than 115 feet tall, it also needs to be aesthetically pleasing to the surrounding community.